Product Description
Product Description
F Type Fenaflex Tyre Coupling
Product Name: type tire coupling
Surface treatment: phosphating, blackening and spraying
Coupling type: tire coupling
Material: Rubber
Scope of application: metallurgy, steel rolling, mining, chemical industry, shipbuilding, pumps, fans, etc.
Features: the tire coupling has good shock absorption and buffering effect and the performance of compensating the deviation between axles. It is widely used in the occasions of impact vibration, variable CZPT and reverse rotation and frequent starting.
>Flexible coupling, large damping, large compensation
>Simple structure and convenient assembly
>The tire body is wear-resistant, so it is not necessary to remove
Product Parameters
1.High elastic material, silent work.
The ability of compensating relative displacement of 2 shafts is large, and the transmission torque is 10-2500n. M
2.Selected 45 steel, reliable quality.
The coupling theme is made of high quality 45 # steel
3.Deburring and smooth surface.
4.Complete models, a large number of stock, complete specifications.
Support non-standard customization. Please contact customer service. Various styles and complete types. Welcome to order!
5.Good damping. No lubrication, working temperature is 20-80 ºC
Packaging & Shipping
Packaging:
Chain+Plastic Bag+ Carton+Wooden case( If you have other requirements, we can customized according to customer requirements packaging. )
Shipping :
1.Most of the standard ones are in stock which we can send in 3-10 days after inspection and package.
2. Customized products delivery time should be determined according to the number.
Company Profile
About Mighty Machinery
ZheJiang Mighty Machinery Co., Ltd., specializes in manufacturing Mechanical Power Transmission Products. After over 13 years hard work, MIGHTY have already get the certificate of ISO9001:2000 and become a holding company for 3 manufacturing factories. 
MIGHTY advantage
1, Abundant experience  in the mechanical processing industries.
2,Large quality of various material purchase and stock in warhouse which ensure the low cost for the material and  production in time.
3,Now have 5 technical staff, we have strong capacity for design and process design, and more than 70 worker now work in our FTY and  double shift eveyday.
4,Strick quality control are apply in the whole prodution. we have incoming inspection,process inspection and final production inspection which can ensure the perfect of the goods quality.
 
5,Long time cooperate with the Global Buyer, make us easy to understand the csutomer and handle the export.
FAQ
1.Q: Are you a factory or trade company?
    A: We have our own factory, our type is factory + trade.
2.Q: When can I get the quotation?
   A: We are usually quote within 24 hours after we get your inquiry. If you are very urgent to get the price. Please call me or tell me in your email so that we will regard you are inquiry priority.
3.Q: Do you like to serve the client only with small order?
    A: We enjoy to grow up together with our clients whatever big or small.
4.Q: Can you send me a free sample?
    A: Yes. We can send you sample for checking our quality. You need pay sample fee, but we will refund you once you place bulk order from us.
5.Q: Could you tell me the packing of your goods?
   A: Packaging products in plastic bags–> Fix the carton box with packing tape–> Orderly, array the products in the carton box–> Arrayed well now–> Seal the carton box–> Completed.
6. Q: What is your MOQ?
    A: 1). In stock: MOQ is 1pcs.
         2). Not in stock:
        When the out diameter is less than 50mm, the MOQ is 100pcs;
        When the out diameter is more than 50mm and less than 300mm, the MOQ is 50pcs;
        When the out diameter is more than 300mm, the MOQ is 10pcs.
7. Q: What is your terms of payment?
     A:1).100% Western Union or PayPal in advance ,specially for small amount.
         2).100% T/T or western union in advance for small quantity order.
         3).30% T/T in advance, pay the balance payment before delivery the goods.
         4).100% payment in Alibaba.
8. Q: What are your terms of delivery?
    A: EXW, FOB ZheJiang or ZheJiang .
9. Q: What is the shipment time?
    A: 1).By air to air port: Fastest, usually 3 days or 4 days.
         2).By sea to sea port: Cheapest, usually 15 days to 30 days.
         3).By courier: DHL, FedEx, ..usually 5 days to 7 days.
10. Q: How to start an order with you?
       A: You can send me an inquiry here, or send me an email, or direct call me!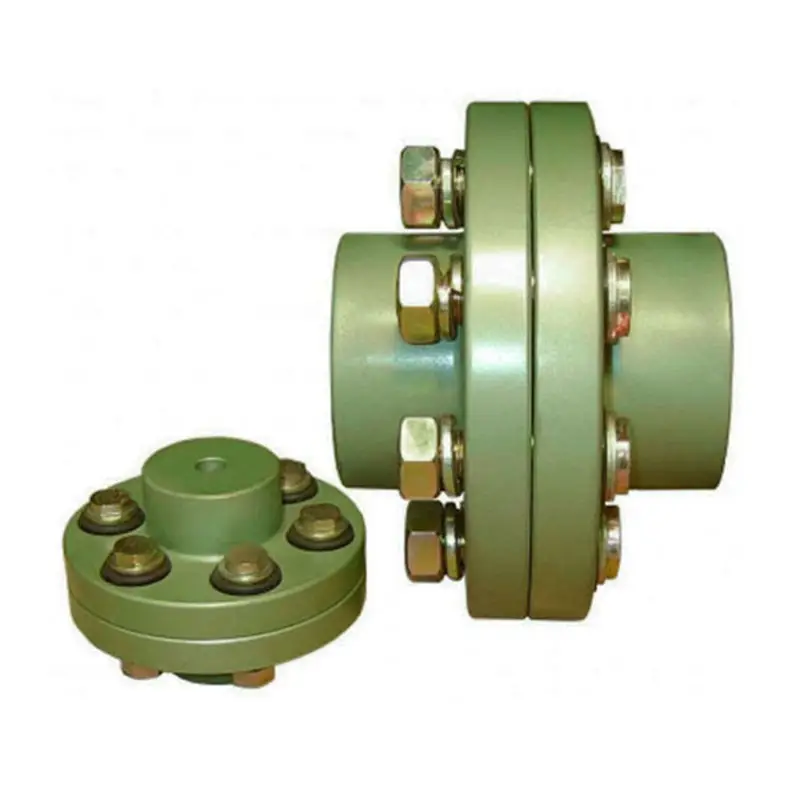 Torque and Speed Ratings of Flange Couplings
Flange couplings are available in various sizes and designs to accommodate a wide range of torque and rotational speed requirements. The torque and speed ratings of flange couplings depend on several factors, including their size, material, and design.
Torque Rating:
The torque rating of a flange coupling indicates the maximum amount of torque it can transmit without experiencing failure or damage. It is typically specified in Nm (Newton-meters) or lb-ft (pound-feet). The torque rating varies for different sizes and types of flange couplings. Larger flange couplings generally have higher torque ratings compared to smaller ones.
Speed Rating:
The speed rating of a flange coupling represents the maximum rotational speed at which it can operate reliably without excessive vibration or wear. It is typically expressed in RPM (revolutions per minute). The speed rating is influenced by factors such as the design, material, and balancing of the flange coupling. Higher-speed applications require flange couplings that can handle the increased centrifugal forces and dynamic loads associated with higher RPMs.
Size and Type:
The torque and speed ratings vary for different sizes and types of flange couplings. For example:
Smaller flange couplings, such as those used in light-duty applications, may have torque ratings ranging from a few Nm to several hundred Nm, and speed ratings up to a few thousand RPM.
Larger flange couplings, used in heavy-duty industrial applications, can have torque ratings exceeding several thousand Nm and speed ratings that may reach tens of thousands of RPM.
Flexible flange couplings may have slightly lower torque ratings compared to rigid flange couplings but offer greater misalignment compensation.
Manufacturer Specifications:
It is essential to refer to the manufacturer's specifications and technical data to determine the specific torque and speed ratings for each size and type of flange coupling. Manufacturers typically provide detailed performance data to help users select the appropriate flange coupling for their specific application.
Application Considerations:
When selecting a flange coupling, it is crucial to consider the torque and speed requirements of the application. The operating conditions, such as load fluctuations and thermal effects, should also be taken into account to ensure the flange coupling's reliable performance and longevity.
Conclusion:
Flange couplings come in various sizes and designs, each with its own torque and speed ratings. Properly selecting a flange coupling that meets the specific torque and speed requirements of the application is essential to ensure efficient and trouble-free power transmission in mechanical systems.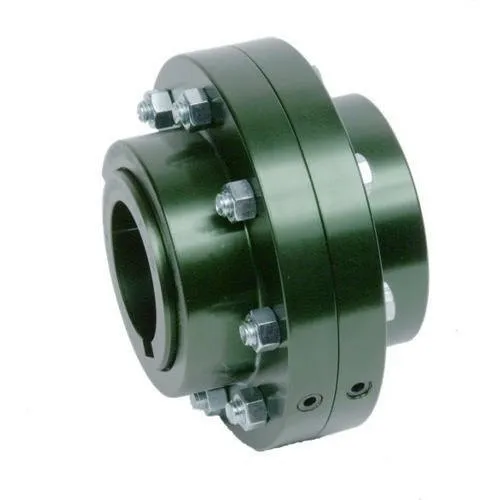 Flange Couplings in Precision Motion Control Systems
Yes, flange couplings can be used in precision motion control systems, provided they are designed and selected appropriately for the specific application. Precision motion control systems often require high accuracy, repeatability, and minimal backlash. Flange couplings can meet these requirements when certain factors are considered:
1. Backlash: Precision motion control systems require minimal or zero backlash to ensure accurate positioning. Flexible flange couplings with no metal-to-metal contact, such as elastomeric or beam couplings, are preferred for these applications.
2. Rigidity: Flange couplings should have sufficient torsional rigidity to maintain the accuracy of the motion system. Rigid flange couplings made from materials like aluminum or steel can provide higher torsional stiffness.
3. Misalignment Compensation: In precision systems, alignment errors must be minimized. Flexible flange couplings can compensate for minor misalignments between shafts while maintaining precise motion transmission.
4. Low Inertia: Flange couplings with low inertia are desirable as they reduce the overall inertia of the system, enabling faster acceleration and deceleration during motion.
5. Material Selection: The choice of material is critical in precision motion control applications. Materials with high strength-to-weight ratios and minimal deformation under load are preferred.
6. Environmental Factors: Consider the environmental conditions in which the flange coupling will operate. For instance, in vacuum environments or cleanrooms, non-lubricated or special coatings may be necessary.
When selecting a flange coupling for precision motion control systems, it's essential to consider the specific requirements of the application, including speed, torque, misalignment, and environmental factors. Regular maintenance and periodic checks for wear and misalignment are crucial to ensure the continued performance and accuracy of the motion control system.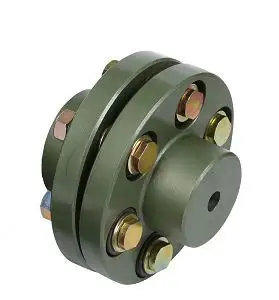 How Does a Flange Coupling Protect Connected Equipment from Shock Loads and Vibrations?
A flange coupling plays a crucial role in protecting connected equipment from shock loads and vibrations by absorbing and dampening the impact and oscillations. The design and material properties of flange couplings contribute to their ability to mitigate shock and vibrations effectively. Below are the key factors explaining how flange couplings provide protection:
1. Flexibility: Flexible flange couplings are designed with elastomeric or metallic elements that offer flexibility between the connected shafts. When subjected to shock loads or vibrations, these elements can absorb and dissipate the energy, preventing it from transmitting to the connected equipment. The flexibility allows the coupling to accommodate misalignment and minor shocks, reducing the stress on the system.
2. Damping Properties: Elastomeric elements used in certain flange coupling designs possess inherent damping properties. These materials can absorb and dissipate vibrational energy, reducing resonance and preventing harmful vibrations from being amplified in the system.
3. Misalignment Compensation: Flange couplings with flexible elements can compensate for certain degrees of misalignment between the shafts. Misalignment can lead to additional forces and vibrations in the system, but the coupling's ability to accommodate this misalignment reduces the impact on the connected equipment.
4. Resilience: Flange couplings made from materials like steel or other alloys have high resilience and can withstand sudden shock loads without permanent deformation. This resilience helps maintain the coupling's integrity and allows it to continue functioning effectively after exposure to shock events.
5. Friction Damping: Some rigid flange coupling designs incorporate friction damping features. These couplings rely on friction between the mating surfaces to dampen vibrations and prevent resonant frequencies from causing issues in the system.
6. Material Selection: The choice of materials for both flexible and rigid flange couplings is critical in their ability to protect connected equipment from shock loads and vibrations. High-quality materials with appropriate mechanical properties, such as strength and elasticity, enhance the coupling's ability to withstand shocks and vibrations.
7. Proper Installation: Correct installation and alignment of the flange coupling are essential to ensure it functions as intended. Properly installed couplings can effectively manage shocks and vibrations, while misaligned couplings may experience premature wear and transmit higher forces to the connected equipment.
8. Maintenance: Regular maintenance, including inspection, lubrication, and monitoring, ensures that the flange coupling continues to provide protection against shocks and vibrations throughout its service life.
In summary, flange couplings protect connected equipment from shock loads and vibrations by providing flexibility, damping properties, misalignment compensation, resilience, and friction damping. The selection of suitable materials, proper installation, and regular maintenance further enhance their performance in protecting industrial machinery and equipment from potential damage caused by dynamic forces.



editor by CX 2023-08-04