Product Description
GROOVED FLEXIBLE COUPLINGS PRODUCTS SERISE
Product Description
STAINLESS STEEL GROOVED FLEXIBLE COUPLINGS SPECIFICATION
MATERIAL SPECIFICATIONS
Housing : Stainless steel 304(CF8) or 316L(CF3M)
Rubber Gasket : Standard gasket is EPDM(Ethylene-Propylene-Diene Monomer), the range of working temperature is -50ºC-150ºC,using for cold water,hot water and rare alkaline chemical products.
Bolt&Nuts : Stainless steel bolts&nuts according to international standard models of carriage bolts and flange nuts.Nut is SS304 material.
According to ASTM A743 standard for housing material
–Type 304 to ASTM A743 CF8(304)
–Type 316L to ASTM A743 CF3M(316L)
 
Our Advantages
Housing:
Stainless steel is used as raw material with good corrosion resistance. And there is the natures which is high strength, good toughness and good mechanical properties. According to the precision casting process, the precision of the clamping size is guaranteed.The material has tensile strength which is not less than 600 MPA and the extension is not less than 15%. withstands high pressure and high impact of pipeline by several disadvantage factors.
Gasket :
The gasket seal with special C-shaped design, that is perfect matching with pipeline dimension in order to achieve working pressure.The gasket is tightener while further pressed in order to achieve sealing efficiency.when the Meanwhile, the imported raw material will also be guaranteed the mechanical properties.
Product Parameters
  
MEDIUM PRESSURE STAINLESS STEEL FLEXIBLE GROOVED COUPLING(600psi)
Model
Nominal Size
Pipe OD/mm
Working pressure psi
Dimensions
Application
A
B
C
P-KTSS25
DN25
1″
33.7
600
55.2
97.7
42
RO System
P-KTSS32
DN32
1.25″
42.4
600
60.7
103.3
42
P-KTSS40
DN40
1.5″
48.3
600
67.5
107.4
42
P-KTSS50
DN50
2″
60.3
600
84.2
123.8
42
P-KTSS65-G
DN65
2.5″
76.1
600
99.4
143.6
44
P-KTSS80
DN80
3″
88.9
600
112
157
49
P-KTSS100
DN100
4″
108
600
135
183
47
P-KTSS100-G
DN100
4″
114
600
135
183
47
P-KTSS125
DN125
5″
133
600
163
220
53
P-KTSS150
DN150
6″
159
600
195
256
53
P-KTSS200
DN200
8″
219.1
600
259
326
60
Monitoring device
Scope of application
ZheJiang Morui Environment&Technology Co., Ltd. (refer to ZheJiang MR), is professional company which is committed to become processing manufacturer of pipeline system solutions. Located in the ZheJiang High-tech Zone as headquarter. There are several branches in ZheJiang , ZheJiang and ZheJiang provinces.
We are not only processing manufacturer, but also it has the own sales and service network. We are able to grasp accurately the clients' "pain points" that the clients faced. And provide the proper solutions immediately. Because we have the excellent team who are focusing on follow-up service.
The ZheJiang MR company's products have been widely used in the field of MF, UF and RO system, sewage water system, water supply and drainage, high-pressure desalination system, such as garbage infiltration liquid, electronic, chemical industry, air-conditioning and so on. Our products are compliance with international first-class standard(GB, ASTM, DIN and JIS). Meanwhile providing the professional before-sale and after-sale service to our clients.
Certifications
FAQ
Qn1: Are you the factory or trading company?
Ans: We are the factory of manufacturing flexible grooved couplings. There are 2 different types ,including plastic and stainless steel. They are mainly applicable in RO,UF and NF system.
The size is from 1″ to 8″, which is satisfied with water treatment.
Qn2: How about the working pressure of grooved couplings?
Ans: For plastic grooved couplings, normally are used in UF system. The Working pressure is up to 10bar with small size. For the larger size,up to 6bar,such like 2-1/2″ and 3″.
For stainless steel, there are 4 steps of working pressure. Low pressure(300psi),medium pressure(600psi), high pressure(1000psi) and ultra-high pressure(1500psi).
Qn3: Can I have sample provided?
Ans: Yes, we can provide sample.
Qn4: When can we get sample?
Ans: For standardized components with stock in hand, we're ready for preparing within 2 working days.
Qn5: How can you ensure the quality of finished products?
Ans: There are several components to consists of finished goods,such as housing, gasket and bolts and nuts with any kinds of sizes. Excepts inspectors, we have several testing machines, like spectrographic analysis instrument, universal testing machine, impact machine and metallographic microscope to ensure the 100% sample selected be tested.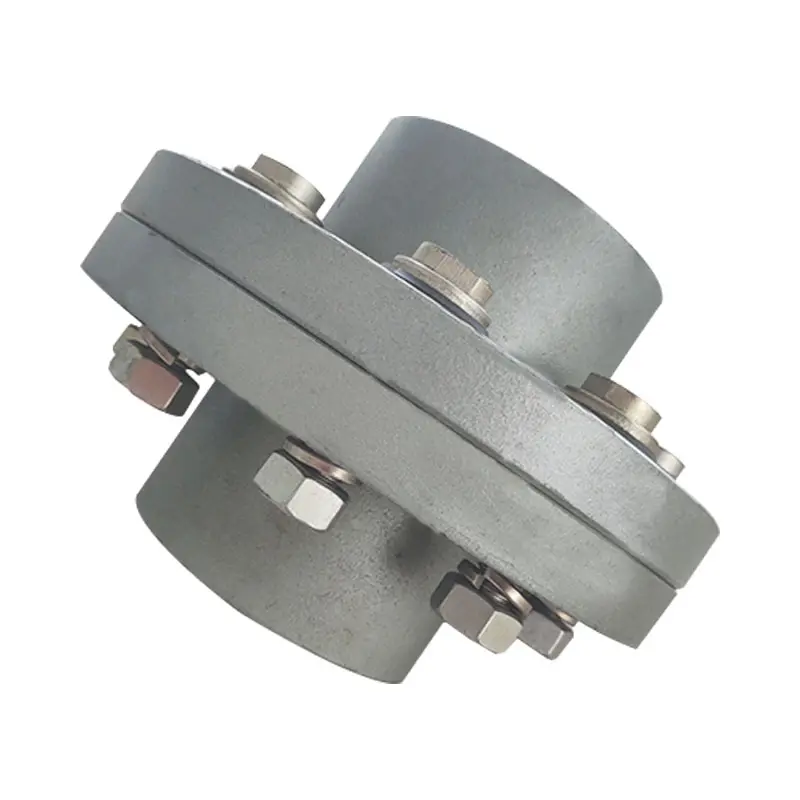 What Industries Commonly Use Flange Couplings for Power Transmission?
Flange couplings are widely used in various industries for power transmission due to their reliability and versatility. Some of the common industries where flange couplings are employed include:
1. Manufacturing: In manufacturing industries such as automotive, aerospace, electronics, and consumer goods, flange couplings are utilized in machinery and equipment to transmit power between different components.
2. Oil and Gas: The oil and gas industry often uses flange couplings in pumps, compressors, and turbines for power transmission in exploration, extraction, and refining processes.
3. Chemical and Petrochemical: Flange couplings are used in various equipment within the chemical and petrochemical industry, including mixers, agitators, and pumps, to transfer power efficiently.
4. Mining and Construction: Heavy-duty machinery in mining and construction applications relies on flange couplings to transmit power in demanding and challenging environments.
5. Power Generation: Power plants, including thermal, hydroelectric, and wind power facilities, use flange couplings in turbines, generators, and auxiliary systems for power transmission.
6. Marine: In the marine industry, flange couplings are utilized in propulsion systems, winches, and other equipment that requires power transmission in marine vessels.
7. Steel and Metal Processing: Steel mills and metal processing plants use flange couplings in various equipment, including rolling mills and conveyor systems.
8. Food and Beverage: The food processing and beverage industry use flange couplings in mixers, pumps, and conveyor systems to handle power transmission in hygienic environments.
9. Pharmaceutical: Pharmaceutical manufacturing equipment employs flange couplings for power transmission in processes such as mixing, granulation, and tablet compression.
10. Water and Wastewater: Flange couplings are used in water treatment plants and wastewater facilities to transfer power in pumps and other equipment.
These are just a few examples, and flange couplings are found in many other industries where reliable power transmission is essential for smooth operations.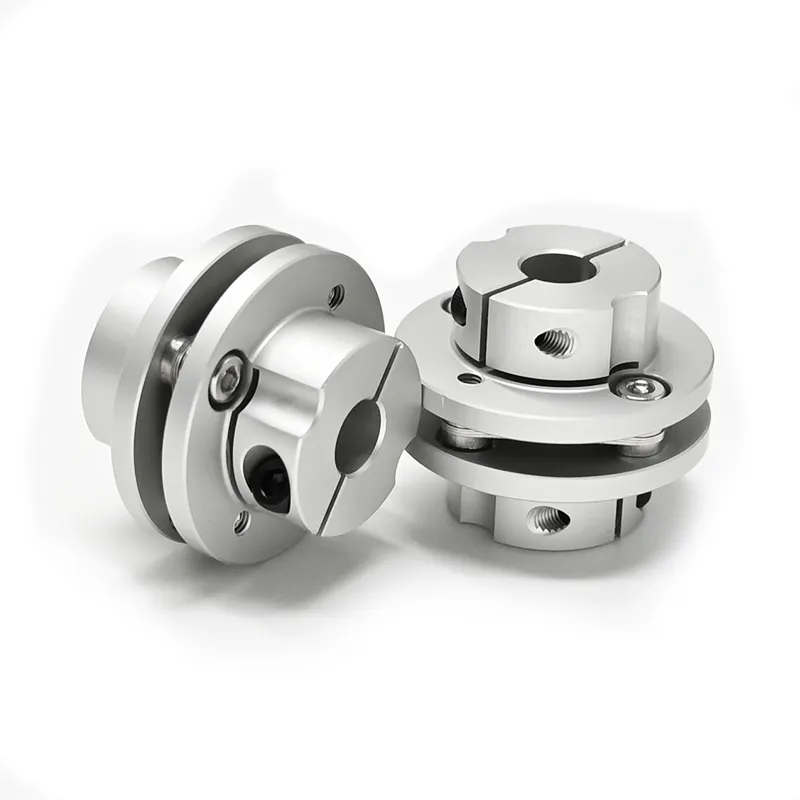 What are the Temperature and Environmental Limitations of Flange Couplings?
Flange couplings, like any mechanical component, have certain temperature and environmental limitations that can impact their performance and lifespan. It's crucial to understand these limitations to select the appropriate flange coupling for specific applications. Here are the key factors to consider:
1. Temperature: Flange couplings are typically manufactured from materials that can withstand a range of temperatures. The maximum and minimum operating temperatures will depend on the material composition of the coupling. Common materials used for flange couplings, such as steel or stainless steel, can handle a broad temperature range from -40°C to 300°C or higher. However, extreme temperatures beyond the recommended range can cause material degradation, loss of strength, and potential failure of the coupling. In high-temperature applications, specialized materials like heat-resistant alloys may be used to maintain coupling integrity.
2. Corrosive Environments: Flange couplings operating in corrosive environments, such as chemical processing plants or marine applications, should be made from materials that resist corrosion. Stainless steel or other corrosion-resistant alloys are commonly used for such conditions. Regular inspection and maintenance are crucial to monitor the coupling's condition and protect against premature failure due to corrosion.
3. Hazardous Environments: In certain industries, flange couplings may be exposed to hazardous or explosive atmospheres. In such cases, it's essential to choose flange couplings that meet relevant safety standards, such as ATEX or IECEx, and are specifically designed and certified for use in hazardous environments.
4. Cleanliness and Hygienic Requirements: Industries such as food processing, pharmaceuticals, and biotechnology have strict hygiene standards. Flange couplings used in these applications should be easy to clean and constructed from materials that meet sanitary requirements to prevent contamination and ensure product purity.
5. Environmental Factors: Flange couplings used in outdoor applications may be exposed to various environmental factors such as moisture, dust, and UV radiation. Choosing couplings with appropriate protective coatings or seals can help enhance their resistance to environmental elements and extend their service life.
Before selecting a flange coupling for a specific application, it's essential to consider the temperature and environmental conditions it will be exposed to. Consulting with coupling manufacturers or engineers can help ensure that the chosen flange coupling is suitable for the intended operating environment and will deliver reliable performance over its expected lifespan.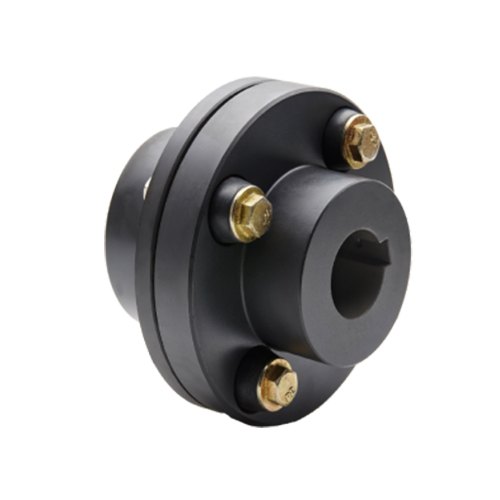 Limitations and Disadvantages of Flange Couplings
While flange couplings offer several advantages, they also have some limitations and disadvantages that should be considered when selecting them for a specific application:
1. Size and Weight: Flange couplings tend to be larger and heavier compared to some other coupling types. This can be a limitation in applications where space and weight are critical factors.
2. Higher Cost: Flange couplings can be more expensive to manufacture and install compared to simpler coupling designs like sleeve couplings or clamp couplings.
3. Complex Installation: Installing flange couplings may require more time and expertise due to their intricate design and multiple components, including bolts and gaskets.
4. Rigidity: Flange couplings are relatively rigid, which means they may not accommodate as much misalignment as flexible couplings. Excessive misalignment can lead to increased stress on the equipment and coupling, potentially resulting in premature failure.
5. Bolt Stress: Proper tightening of the bolts is crucial for the effective functioning of flange couplings. Over-tightening or under-tightening the bolts can lead to bolt fatigue or coupling slippage.
6. Noise and Vibration Transmission: Flange couplings, especially rigid designs, can transmit more noise and vibration compared to flexible couplings, potentially affecting the performance and longevity of connected equipment.
7. Maintenance: Flange couplings may require more frequent maintenance due to the presence of multiple components and the need to periodically check bolt tightness and gasket conditions.
8. Corrosion: Depending on the material used, flange couplings may be susceptible to corrosion in certain environments. Corrosion can compromise the integrity of the coupling and reduce its service life.
Despite these limitations, flange couplings are still widely used in various industrial applications due to their robustness, high torque capacity, and ability to handle heavy loads. Proper application, installation, and maintenance can help mitigate some of these disadvantages and ensure the reliable performance of flange couplings in a wide range of systems.



editor by CX 2023-08-16