Product Description
Products Description
Business Type
 

Factory & Manufacturer

Certificate
 

ISO9001:2008 and  TS16949

Service

CNC milling & turning , sheet metal fabrication, grinding, deburring, tapping, drilling, cutting, knurling,
laser marking, wire EDM, CAM programming and outsource service

 

 

Material

Stainless Steel: 303, 304, 304L, 316, 316L, etc…
Carbon Steel: 1018, 1045, 1144, 12L14, 1215…
Aluminum: 5052, 6061-T6, 6061-T4, 6082-T6, 6063-T6…
Brass and Copper: C3602, C3604, H62, C34000
Plastic: POM, PEEK, ABS, PA66, PP, PMMA etc…
Titanium and more…

Finish
 

sandblasting, anodizing, blackening, plating, polishing, coating, knurling and more

 

Equipment
 

CNC milling machine, CNC turning machine, auto lathe, grinding machine, tapping machine, drilling machine,
laser marking machine, WEDM machine, CMM machine and more.

Drawing Format

STEP, STP, GIS, CAD, PDF ,DWG ,DXF etc or samples.

Main Products

Stamping part,cnc machine part,spring,shaft,screw and etc.

Inspect Tool

micrometer, thread gauges, calipers, pin gauge, projector, CMM, altimeter and more.

Quality Control

100% inspection

Tolerance

+/-0.01mm ~ +/-0.001mm or as per client's needs

Surface Roughness

Ra 0.1~3.2 or as per client's needs

Additional Service

assembly, logo engraving, surface finish, special package etc.
Powerful manufacturers OEM customized stainless steel L-shaped mounting frame
Production Process

Company Profile
Our company was founded in October, 2000, specializing in the production of cnc milling auto lathe,
stamping parts, springs, shafts, screws, and other metal parts. Our main products modes are
designing and proofing based on customers' drawings or samples.
Product packaging
Certificate
Our Advantages
1.Provide OEM/ODM service and assembling service,since 2000
2.Social responsibility audit passed
3.One-stop purchasing service:Stamping parts,CNC milling parts,CNC turning parts,auto lathe parts,Springs,Shafts,fastener etc.
4.With professional engineers team can help you for projects research and development(R&D). Meanwhile we can suggest
the most suitable material and manufacturing progresses for your products to save the cost and ensure the quality and usage.
5.Product certification:RoHS,HE report available
6.Management certification:ISO/9001:2008 and TS16949 Passed
 
FAQ
1.Q: Are you a manufacture or trading company?
A: We are a China Enterprises which has 16year-manufacturer in hardware products.
2.Q: Do you provide ODM/OEM service?
A: OEM / ODM is welcome, We got a professional and creative R&D team, and customized colors are optional. From the concept to finished goods, we do all ( design, prototype reviewing, tooling and production ) in the factory.
3.Q: Where is your factory located? How can I visit it?
A: Our factory is located in HangZhou, ZheJiang , HangZhou is the Closest city from HangZhou and HangZhou, hongkong. 1 hour from HangZhou and HangZhou by car. 1.5 hours flight from Hong Kong ( 1 hour by car+0.5 hour by boat ).
4.Q: Is it possible to know how are my products going on without visiting your company?
A: We will offer a detailed production schedule and send weekly reports with digital pictures and videos which show the machining progress.
5.Q: How can I get the sample? What's the lead time?
A: Normally will be send in 7days. If need to open new Model, need another 10-15days more.
6.Q: What's the lead time for mass production?
A: 20-25days after down payment confirmed, can be negotiable.
7.Q: If you make poor quality goods, will you refund our fund?
A: As a matter of fact, we wont take a chance to do poor quality products. Meanwhile, we manufacture goods quality products until your satisfaction.
8.Q: How long is your delivery time?
  A: Generally it is 5-10 days if the goods are in stock, or it is 15-30days if the goods are not in stock, it is according to quantity.
9.Q: Do you provide samples? is it free or extra?
  A: Yes, we can provide samples, but need few samples charge, we need custom to do.
10.Q: What is your terms of payment?
   A: Payment=1000 USD, 30% deposite, balance before delivery, 70% balance pay before delivery.
11.Q: How to order?
   (1) You send us drawing or sample;
   (2) We carry through project assessment;
   (3) We give you a design;
   (4) You think the design is ok;
   (5) We make the sample and send it to you;
   (6) You think the sample is good then place an order and pay us 30% deposite;
   (7) We start to make the product;
   (8) When the goods is done, we deliver it to HangZhou Xihu (West Lake) Dis.;
   (9) You pay us the balance after you see the B/L Copy;
   (10) The whole order is done, thank you!!!
How to contact us?
  Send your inquiry Details in the Below, Click "Send" Now……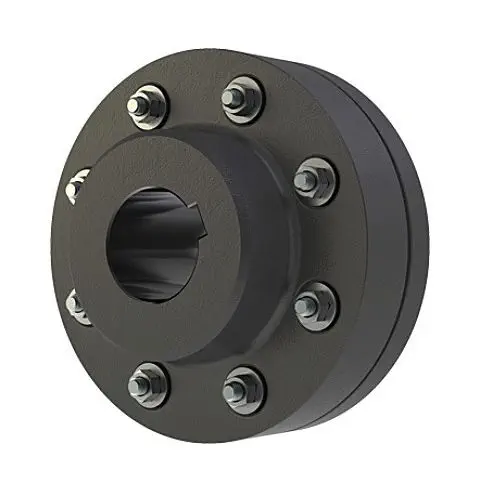 Differences Between Rigid and Flexible Flange Coupling Designs
Flange couplings are essential components used in various mechanical systems to connect shafts and transmit power between them. Two common types of flange coupling designs are rigid flange couplings and flexible flange couplings. These designs differ in their construction and performance characteristics:
Rigid Flange Couplings:
Rigid flange couplings are designed to provide a solid and inflexible connection between two shafts. They are suitable for applications where shaft alignment is precise, and no misalignment is expected during operation. The key features of rigid flange couplings include:
Stiff Construction: Rigid flange couplings are made from robust materials such as steel or aluminum. Their stiffness ensures that there is little to no flexibility, maintaining a solid connection between the shafts.
No Misalignment Compensation: Rigid flange couplings do not accommodate any misalignment between the shafts. Therefore, proper alignment is crucial during installation to prevent undue stress on the shafts and connected equipment.
High Torque Transmission: Due to their rigid design, rigid flange couplings offer high torque transmission capabilities, making them suitable for heavy-duty applications with precise alignment requirements.
Flexible Flange Couplings:
Flexible flange couplings, as the name suggests, offer some degree of flexibility and misalignment compensation between the connected shafts. They are used in applications where shaft misalignment, caused by factors like vibration, temperature changes, or minor installation errors, is likely to occur. The key features of flexible flange couplings include:
Misalignment Compensation: Flexible flange couplings can tolerate angular, parallel, and axial misalignment to some extent. This helps to reduce stress on the connected equipment and enhances the overall performance and lifespan of the system.
Vibration Dampening: The flexibility of these couplings allows them to dampen vibrations and shocks, making them suitable for systems where vibrations are a concern.
Reduced Stress on Bearings: Flexible flange couplings can help reduce the stress on bearings and other connected components by absorbing misalignment forces.
When choosing between rigid and flexible flange couplings, it is essential to consider the specific requirements of the application. Rigid flange couplings are best suited for applications with precise alignment, while flexible flange couplings are ideal for systems where some degree of misalignment is expected. The selection process should also take into account factors such as torque capacity, shaft sizes, operating conditions, and maintenance requirements.
In conclusion, the choice between rigid and flexible flange coupling designs depends on the application's alignment needs and the desired level of misalignment compensation and vibration dampening.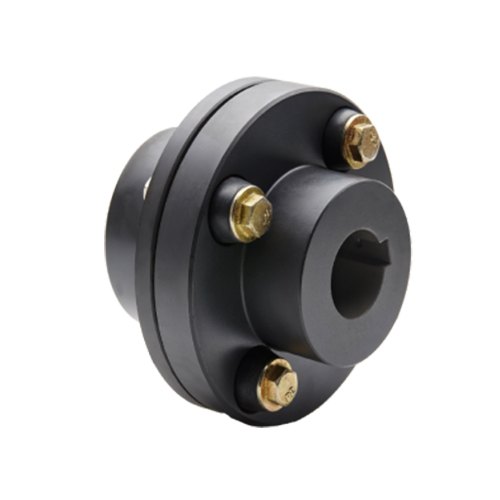 Can Flange Couplings Be Used in Hydraulic and Pneumatic Systems?
Yes, flange couplings can be used in both hydraulic and pneumatic systems to connect rotating components, such as pumps, motors, and cylinders, to transmit torque and motion. The key considerations when using flange couplings in hydraulic and pneumatic systems include the choice of material, sealing, and proper design to accommodate the specific requirements of these systems.
1. Material Selection: In hydraulic and pneumatic systems, the choice of material for the flange coupling is crucial due to the potential exposure to various fluids and environmental conditions. Common materials used for flange couplings in these systems include steel, stainless steel, and aluminum, which offer good strength, corrosion resistance, and durability.
2. Sealing: Hydraulic and pneumatic systems rely on the containment of fluids or gases under pressure. Therefore, it's essential to ensure proper sealing in flange couplings to prevent any leakage that could lead to system inefficiencies or safety hazards. Proper sealing can be achieved using O-rings, gaskets, or other sealing elements integrated into the flange coupling design.
3. Design Considerations: The design of flange couplings for hydraulic and pneumatic systems should take into account the high pressures and forces involved in these applications. The flange coupling design should be robust enough to withstand the operating pressures and torque loads while maintaining proper alignment and ensuring smooth transmission of power.
4. Precision Machining: Tight tolerances and precision machining are critical for flange couplings used in hydraulic and pneumatic systems. This ensures that the coupling components fit together accurately, preventing any air or fluid leakage and minimizing wear and tear.
5. Customization: In some cases, hydraulic and pneumatic systems may have specific requirements that call for customized flange coupling designs. These customizations may include special materials, size, or sealing features to match the unique demands of the system.
Overall, flange couplings offer a reliable and efficient means of connecting rotating components in hydraulic and pneumatic systems. Proper selection, design, and maintenance of flange couplings contribute to the overall performance and longevity of these systems, ensuring smooth operation and minimal downtime.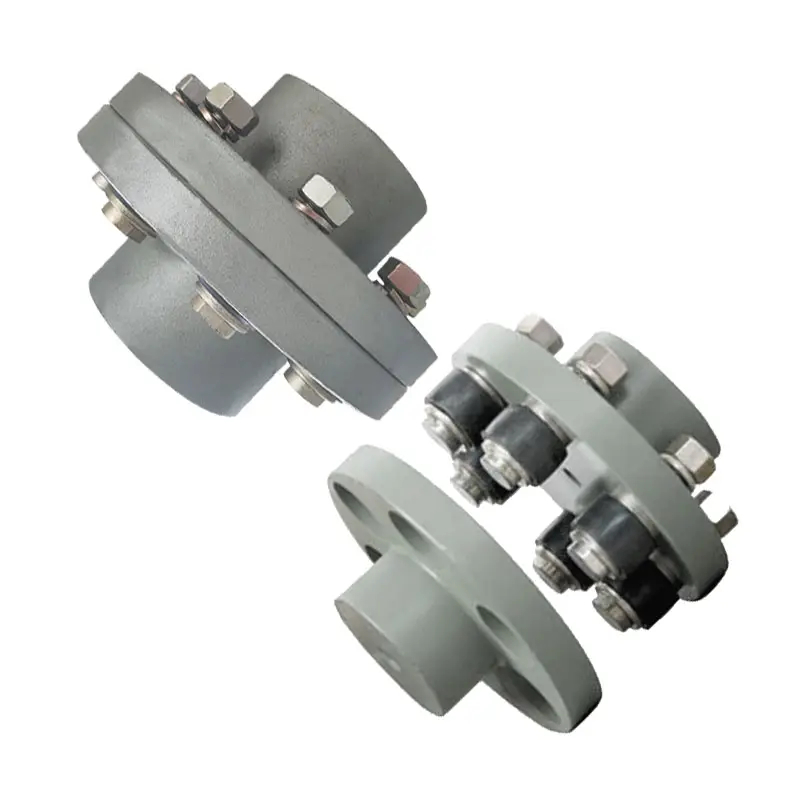 Are There Any Safety Considerations When Using Flange Couplings in Rotating Machinery?
Yes, there are several safety considerations to keep in mind when using flange couplings in rotating machinery. Flange couplings are an essential component in many industrial applications, but their use in rotating machinery can present certain hazards that need to be addressed. Below are the key safety considerations:
1. Guarding: It is crucial to have appropriate guarding around the flange coupling to prevent accidental contact with rotating parts. Guards should be designed and installed to prevent access to the coupling during operation and maintenance, reducing the risk of entanglement or other accidents.
2. Lockout/Tagout Procedures: Before performing any maintenance or inspection on machinery with flange couplings, lockout/tagout procedures must be followed. This ensures that the equipment is isolated from its power source and cannot be accidentally energized while personnel are working on it.
3. Proper Installation and Alignment: Flange couplings should be correctly installed and aligned according to the manufacturer's guidelines. Improper installation can lead to misalignment, increased vibrations, and potential coupling failure, which may pose safety risks to personnel and equipment.
4. Material Compatibility: Ensure that the material used for the flange coupling is suitable for the specific application, taking into account factors such as the type of fluid or environment the coupling will be exposed to. Incompatible materials may lead to corrosion or mechanical failure, affecting safety.
5. Regular Inspection and Maintenance: Scheduled inspections and maintenance are crucial to detect any signs of wear, damage, or misalignment in the flange coupling. Addressing issues promptly can prevent unexpected failures and reduce the risk of accidents.
6. Load Capacity: Flange couplings should be selected based on the anticipated load and torque requirements of the application. Using a coupling with inadequate load capacity may lead to premature failure and safety hazards.
7. Training and Awareness: Personnel working with rotating machinery and flange couplings should receive appropriate training on safety procedures and potential hazards. Awareness of safe working practices is essential for preventing accidents and injuries.
8. Temperature and Environment: Consider the operating temperature and environmental conditions when selecting a flange coupling. Extreme temperatures or harsh environments may affect the coupling's performance and safety.
9. Emergency Stop Procedures: Machinery with flange couplings should have emergency stop procedures in place to quickly shut down the equipment in case of an emergency or abnormal operation.
10. Compliance with Regulations: Ensure that the use of flange couplings complies with relevant safety regulations and industry standards.
By addressing these safety considerations, users can minimize the risks associated with flange couplings in rotating machinery and create a safer working environment for personnel and equipment.



editor by CX 2023-11-09